Click on Full Screen for a better navigation experience, use your mouse to navigate inside the image.
Kites
The Delta
Simon Harbord a well known KAPer from Scotland introduced me to the joy of flying Deltas. Up until I flew a Delta, the kite was for me just a way to lift my camera but a rather boring one. The Delta brought to my type of KAP some poetry and incredible satisfaction of flying a very sensitive "bird".
Dan & Bev Leigh have been building Kites in England for 35 years, all are individually hand made to order and signed. Each one of their creation is a piece of art and engineering.
This large kite (3 meters) will fly in moderate to fresh breeze ( up to 15knots) with a high angle and an incredible stability.
Dan just recently designed for me a "travel version" of the R8 that folds in a 50 cm tube.
A bit smaller this Delta is adapted to stronger breeze up to 25 knots
The Nighthawk is a very popular general purpose fishing kite used in New Zealand. Very well build and resistant, this is the ideal delta for winds up to 40 knots.
Paul's Kite Fishing Super Delta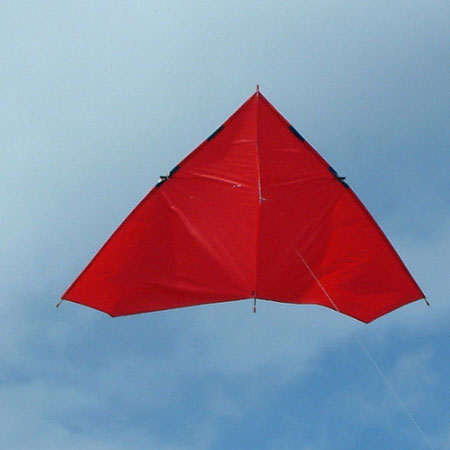 A deltawing kite capable of handling gale force winds. I flew mine in 45 knots in the Canadian arctic and got some great results.
Fled
Developed by Michael Andersen and Brooks LefflerThe Fled is a cross between the light-wind Flare and the traditional Sled. It's a stable, strong, light-wind kite that flies at a line angle of 65 - 70 degrees, just about perfect for KAP.
The Fled develops impressive lift; it will easily lift a camera rig of one pound in 5 knots wind, making it ideal for AUTO KAP.